How it works
Discover how "FOR YOU" Services TalentHub (talenthub.foryouservices.com), allows you to Discover, Connect, and Experience Personalized Services.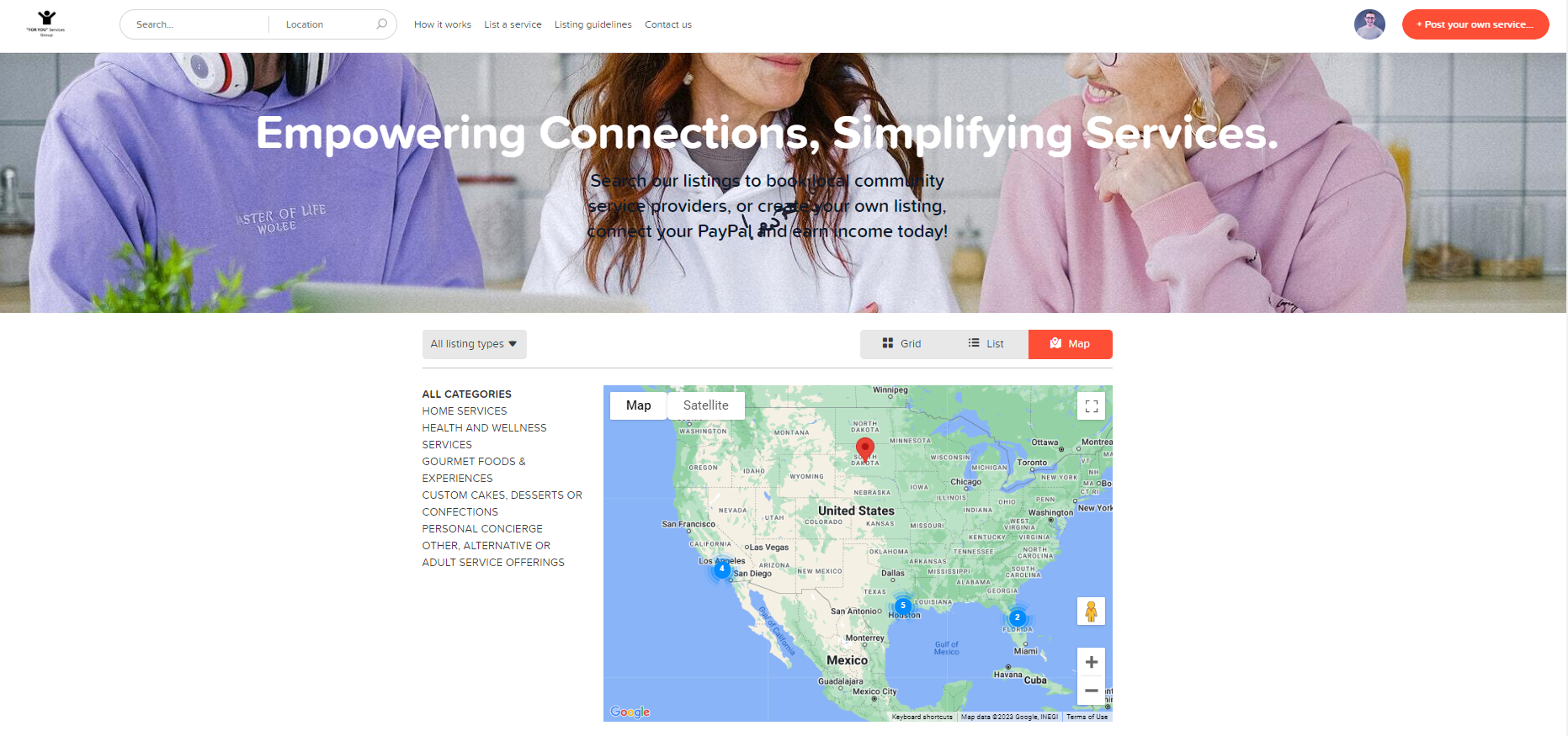 Clients simply peruse, search and buy services they are looking for, generally delivered to their home. Clients pay for the service with their Debit or Credit Card (or PayPal account), using PayPal as the payments processing platform (no PayPal account is required for clients).
Service providers earn income
for the service or product offering that they provide. Simply create a listing
here
, connect your PayPal account and earn income today!
To have a listing approved
To have your listed approved and listed, service providers must not list any nudity, must be over 18, and must verify their images and ID
here >
.
Why do I need to connect my PayPal account? This is to allow the charge to be passed to you, the service provider, with the commission element (booking fee) onsent to us (as the booking agent).
What protects our Clients payment? Our platform requires that once a payment is made, or provider booking request is sent, that the service is accepted by the provider within 3 days. If it is not accepted, it is refunded to the client or cancels. Once the provider accepts the service request (and payment), the client and provider are then able to easily communicate and talk through our platform privately to finalise specifics of how the service is to take place (location and other particulars). Should the client not receive the service after they have paid and reached agreement with the provider to provide the service as discussed, they are able to obtain a refund (disputing via PayPal and within our Platform), and the service provider will be removed from our platform.
Clients consume our providers services and offerings, and must pay service providers to be able to acquire the service or product offering. Clients pay service providers via Debit or Credit Card (or their PayPal account).
Payments are made via your Debit or Credit Card (or your PayPal account), via PayPal for client security.
Safety and security: As payments are made via a clients debit or credit card, we believe that our method of facilitating service arrangements is safer than traditional classifieds or advertising models.
Reviews, once a service has been provided, our client reviews our service provider fairly to strengthen the community knowledge surrounding the providers skill and capability.
Service Providers / Creators: Create your service or product offering, list your offering on our site and earn an income for your work by connecting your PayPal account.
Booking Freelancer Services or Creator Products / Offerings
To book you must first create an account to become a logged in user. This will allow you to message our service providers freely once you pay the required fee or cost per unit.
Once your booking or unit fee is paid, you are then able to communicate freely with our service provider to confirm / arrange your service date and time and other particulars.
Steps to book, and the service process:
(a) Explore our freelancer directory through our interactive map
here
, or via our website at
foryouservices.com
where you can peruse by category.
(b) Register for an account (verify your email address by clicking the confirmation link sent to the provided email).
(c) Once payment of your service or product Fee is made, you can then communicate freely with our service provider, through our platform, to confirm and arrange the service date and time.
(d) Provide your service provider with a fair review, once the service has been provided to you.
NOTE about reviews: The platform is dependant on great service providers receiving good reviews, therefore the service provider is expected to conduct their offering professionally. Should you receive a great service offering, or alternatively should you not receive the service as the provider has offered within a reasonable time frame, please provide your review as appropriate.
IMPORTANT NOTE about bookings: This is not an instant booking service. Some freelancers have existing and competing priorities, and you book on the basis of respecting and understanding this, and working respectfully with the freelancer to complete the service requested. We do not provide refunds unless terms are broken.
Freelancers: Listing Services, Advertising, and Earning Income
(a) Create an account (verify your email address by clicking the confirmation link sent to the provided email).
(b) Develop your profile with images, a description, and service location. All information listed must be truthful and verifiable by consumers.
***NOTE: YOU MUST ADHERE TO OUR LISTING GUIDELINES AND SUBMIT VERIFICATION IMAGES / ID TO HAVE YOUR PROFILE FINALLY APPROVED AND LISTED***
(c) Link your PayPal account to our platform (all safely and securely managed by PayPal), enabling direct payment transfers when bookings / purchases of your service offering are made.
NOTE: You must connect your PayPal account for our team to approve your listing. If you have concerns about connecting your PayPal account, please create a new one, and connect with a new account (with a new email for instance).
(d) Accept bookings through the Platform, after the client pays the booking or unit price.
(e) Once a purchase of you service offering is made, you can then communicate freely and securely through our platform, to discuss and confirm the service particulars with the client, and attend or provide the product on the agreed date / time. You are automatically able to chat / message through the platform to the client once a client purchases your offering.
(f) Build your market value by providing customer satisfaction and obtaining high level reviews.